About us
Hey,We are Creality 3D!
Shenzhen Creality 3D Technology Co., Ltd, founded in April 2014.
A technology company from China,the products have passed many international quality and environmental certifications such as CE, FCC, and ROHS, and we export to Europe, the United States, Australia, Russia, and the United Kingdom ,Germany, Singapore, Egypt, India more than 30 countries. Our factory covers an area of 20,000 square meters and 16 modern production with a total of 550 employees. including more than 30 people in R&D department, 20 Software and electronic engineer and 10 people are devoted to structure, Our monthly production capacity is about 30,000 pcs. and the total production capacity is expected to be about 250,000 pcs this year. At the same time, 4 professional test lines are continuously operated for 24 hours, in line with the company's advanced quality control system, ensuring the high quality of products from the source.
Hot-sale product




News about Creality3D products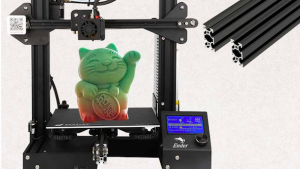 L'imprimante 3D Creality 3D CR – 10S Pro (300 x 300 x 400)
L'imprimante Creality 3D vient de connaître une nouvelle amélioration et qui a abouti à la création de la Creality 3D CR – 10S Pro. Cette imprimante 3D possède un grand volume d'impression de 300 x 300 x 400 mm pour offrir plus de possibilité aux professionnels et amateurs.
Video Preview
Company Development
2014 Shenzhen Creality 3D Technology Co., Ltd. was established in Shenzhen
2014.03 Proposing research and development of DLP light curing and FDM hot melt deposition 3D printing technology
2014.04 FDM 3D printer CR-3 has come out
2014.08 CR-4 light curing 3D printer has comes out
2014.10 Move to a new address and expand company scale
2014.11 Pass CE, FCC, ROHS certification
2014.12 CR-5 Large-size 3D Printer Comes Out
2015.01 Creativity 3D launched a full-scale online sales campaign. 3D printers were directly listed on Taobao, Alibaba.
2015.05 The CR-73D printer was officially put into mass production
2015.08 3D printer CR-8 successfully developed
2015.11 Creality 3D established cooperation with the Maker Experiment Center of Bao'an Science Museum.
2016.02 Creality 3D once again moved to a modern industrial park. The company strictly abides by IS09001 standard, modernized production workshops, and completes each shipment of products.
2016.6 3D printer CR-9 has come out
2017.01 And log in to Jingdong Crowdfunding
2017.03 Expanded to 3,000 square meters with more than 150 people
2017.06 Creality 3D Holds the First "Imagination at Each Design Corner" 3D Print Contest
2017.08 Wuhan branch was established, the company expanded to 12,000 square meters with more than 300 people
2017.10 Shenzhen headquarters expanded, CR-10 production line moved to Yingtai Industrial Area